Kuroto Mogari
Kanji

殯 蔵人

Rōmaji

Mogari Kuroto

Characteristics

Race

Human

Gender

Male

Hair Color

White

Eye Color

Brown

Occupation

Financial backer of SIRRUT

Personal Status

Status

Deceased

Relatives

Mother (Deceased)
Father (Deceased)
Nanahara Fumito (Cousin)

First Appearance

Anime Debut

Blood-C: The Last Dark (Movie)

Seiyuu

Japanese
English
Image Gallery
Kuroto Mogari (殯 蔵人, Mogari Kuroto) is the head of Sysnet, the number one IT venture company. He approves of SIRRUT's goals and their mission to expose the truth to the world using the internet as a platform, and so he lends them his support. He has some sort of history with Fumito, which resulted in him becoming a cripple, and he sees Fumito as a personal enemy.
He was later revealed to be working with Fumito as a double agent. SIRRUT was just a means for him to obtain Fumito's trust. His treachery is only revealed to Saya. The members of SIRRUT miss him dearly, never discovering the truth.
Background
As stated by him and Fumito, they killed their own family so that they could take over their families business.
Appearance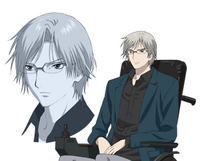 Kuroto has short white hair and brown eyes. He wears a blue long-sleaved jacket with a black shirt underneath and long grey pants with brown shoes. He wears glasses and is wheelchair bound.
Personality
False Personality
Initially he appeared a kind and noble man, determined to avenge his family's demise at Fumito's hand. He acted as a mentor to the other members of SIRRUT, offering them comfort and support.
True Personality
Near the end of the film his previous personality was revealed to be an act. He revealed his true colors to be twisted, immoral, manipulative, and greedy. A prime example was when he revealed that he had been the one to purposely give the group the false lead that nearly led to Mana's death. When his treachery is revealed, he stated that he thinks the members of SIRRUT as nothing more than tools to achieve his goal of obtaining Tower 7 and all of Fumito's assets. He even planned to frame Saya for Fumito's murder and revealed that he sedated Saya by slipping drugs into her coffee.
Plot
Relationships