Dog
Kanji

犬

Rōmaji

Inu

Characteristics

Race

Animal

Gender

Male

Eye Color

Black with red markers

Occupation

Fulfill someone's wish

Personal Status

Status

Alive

Seiyuu

Japanese
English
The Dog is a mysterious character in the Blood-C universe.
Personality
He is very level heading and mature and takes matters seriously. He appears to care for and like Saya.
Appearance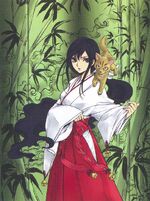 He is a small dog with brown fur and 3 red markings on his forehead and eyes.
Plot
When he first appears in the anime, he is silent and distant. However, as the story progress and Saya starts to recover more of her memory, he starts to talk to her. He tells her that his mission is to fulfill someone's wish. That involves helping her regain her memories and "waking her up." When Saya asks who's wish it was, he says that information cannot be release as it would violate the contract. In the last episode of Blood C, it is assumed that Says's past-self, before Fumihito drugged her, was the one that had made the wish.
Blood-C: The Last Dark
He appears again when Saya visits a certain shop owner who can grant wishes (the same one from XXXHolic). He is revealed to just be a vessel for Watanuki to communicate with Saya.